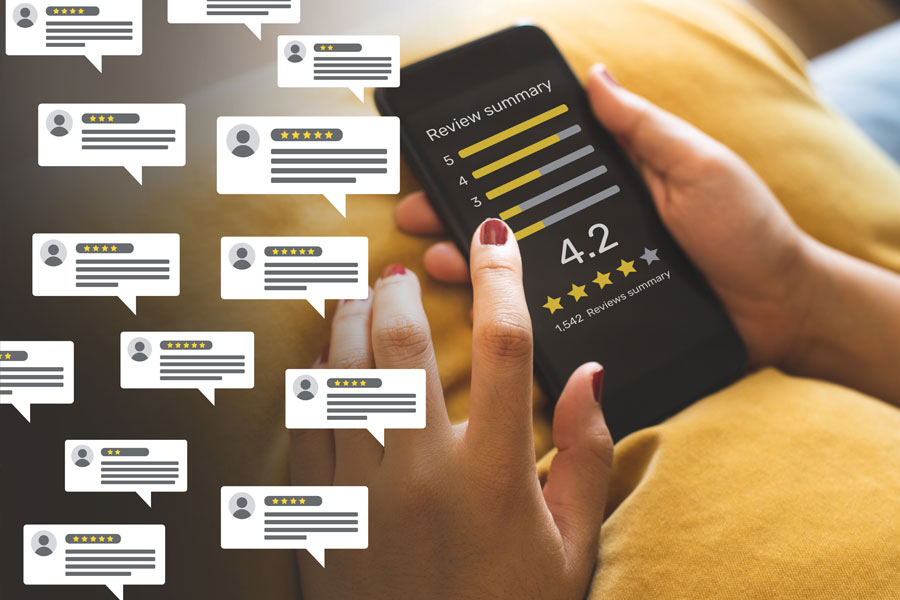 Importance of online customer reviews
According to recent research 90% of consumers read online reviews before visiting a business and 80% of consumers trust online reviews as much as personal recommendations.
This is pretty staggering to know that the majority of all online shoppers use reviews to assist them with their decisions.
Reviews not only have the power to influence consumer decisions, they also inform a the customer and strengthen a company's credibility and trust.
Google MyBusiness reviews - local SEO
The quality and quantity of reviews on Google is one of the most important ranking factors for local SEO.
Google's algorithms are designed to deliver the most relevant and beneficial result for local searchers. Google ranks a business by what they do and also by how they are perceived by real customers.
The purpose of customer reviews on a Google MyBusiness page are not only to impress customers but to be noticed by Google.
Get a better understanding of your customers
Analyzing reviews definitely helps to understand overall customer satisfaction. Businesses can learn from feedback and improve their service.
Credibility and Social Proof
"Social proof is a psychological and social phenomenon wherein people copy the actions of others in an attempt to undertake behavior in a given situation."
Customers want to know what others say before making a decision. Reviews can inform the user in ways a business can't. Who doesn't feel more comfortable with a purchase after reading positive reviews.
This is especially important for eCommerce websites.
The Negative Review
Studies show that customers are more likely to leave a review after a negative experience than a positive one.
Obviously negative reviews can have a dramatic effect on a business.
How to respond to a Negative Review
By responding to a negative review, companies can contextualise the complaint, mitigate the negative impact and show value to their customers.
It is important to respond quickly and acknowledge the customer's complaint.
Empathise and apologise to the customer.
Show no emotions, always stick to the facts and provide an explanation.
Most importantly try to take the discussion offline.
Customers love to have a voice
"Voice of the Customer (VoC) is a term that describes your customer's feedback about their experiences with and expectations for your products or services. It focuses on customer needs, expectations, understandings, and product improvement."
Reviews provide an opportunity for businesses and customers to build a relationship with one another.
Customers like to feel as if they are a part of the brand (family). To be loyal, have their say and feel as if they have meaningful input.
Let customers do the marketing for you
Positive reviews are offering benefits a marketing campaign can't as they create positive long term brand awareness.
Businesses can also incorporate the voice of their customers within their marketing campaigns to increase trust and site traffic.
Reviews are self propelling, they create more reviews
Once a business or a product has a lot of reviews it encourages other customers to also leave a review.