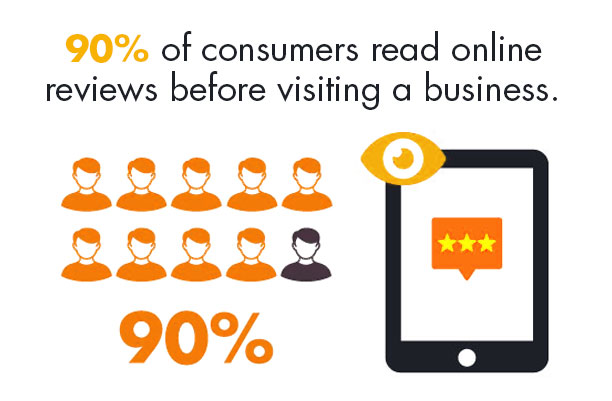 The Power of Online Reviews
Reviews have become an extremely powerful currency in this modern world of shared knowledge. We all know how valuable a trusted referral can be, from a friend telling you to read a book or recommending a restaurant. The travel and hospitality industries have been doing it for a long time. Now just about any business can leverage the power of trusted referrals to their advantage.
Did you know, nearly 9 in 10 consumers say an online review is as important as a personal recommendation. Telling us that they are a trusted method of advice.
Estimated Number of Online Reviews Customers Read Before Trusting a Business.
There is a sweet spot with the amount of reviews a consumer will read before committing to buy. On average between 4 to 6 reviews register the most amount of sales. With 32% of consumers forming an opinion and ready to purchase at this point.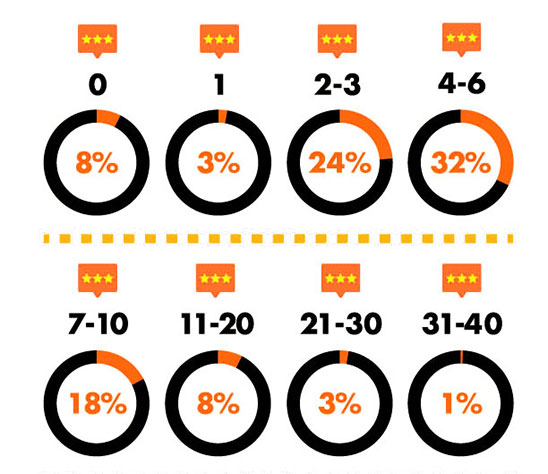 Get a Higher Spend Per Sale
Great reviews will encourage a higher spend per sale by building trust and desire. People want to buy goods or services that others have purchased and have had an enjoyable experience with. Customers are likely to spend 31% more on a business with "excellent" reviews.
It is worth noting the point in the purchasing cycle customer reviews come into play. By the time a website user has started reading reviews online, they will have already identified their need and are trying to make a decision. They then have figured out what good or service would satisfy this need, and are at the point of selecting a business to use.
Don't be Afraid to Ask your Customers
The best way to increase the number of reviews to your business is to just ask. Your customers understand how important reviews are and as long as you provide an excellent product or service, they won't be annoyed if you ask for a review. Don't wait too long, customers are more likely to give you feedback right after the transaction.
Create a templated email that goes out to all your customers after a purchase. Or the next time a customer compliments you via email, phone, or in person, mention that you'd appreciate if they left the same feedback in an online review on a review site of your choice.
Ways to Get More Online Reviews for Your Business
Set up profiles on multiple review sites
Ask your customers
Incentivise (but don't buy) reviews
Make it easy to leave reviews
Thank your reviewers
Make reviews a normal part of your workflow
How To Deal With Negative Reviews
86% of people will hesitate to purchase from a business that has negative online reviews. However most businesses have to deal with them occasionally. It can be a way to showcase your customer services. Just remember not to ignore them and be proactive when dealing with negative reviews.
Interesting to note, a study showed that when retailers replied to negative reviews, a third of customers either deleted their original negative review or replaced it with a positive review and nearly a fifth went on to become loyal customers.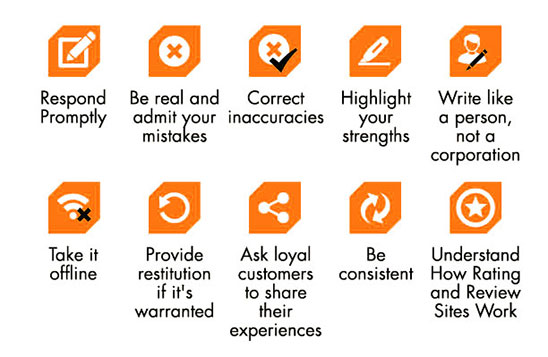 Plenty of Options to Choose From
Set up multiple profiles on sites that are relevant to your business. Local business listings are powerful for smaller locality based businesses, such as Yelp, Google My Business, Yahoo Local, Yellow Pages and CitySearch. Travel and hospitality industries use their own dedicated review-driven sites. Some more general review sites WOMO, Reviewr and Trustpilot are great. Corporate based reviews are best on LinkedIn.
Customer reviews can influence purchasing decisions so much that a consumer will choose one brand over another solely based on them. Customer reviews will help you outshine your competition.