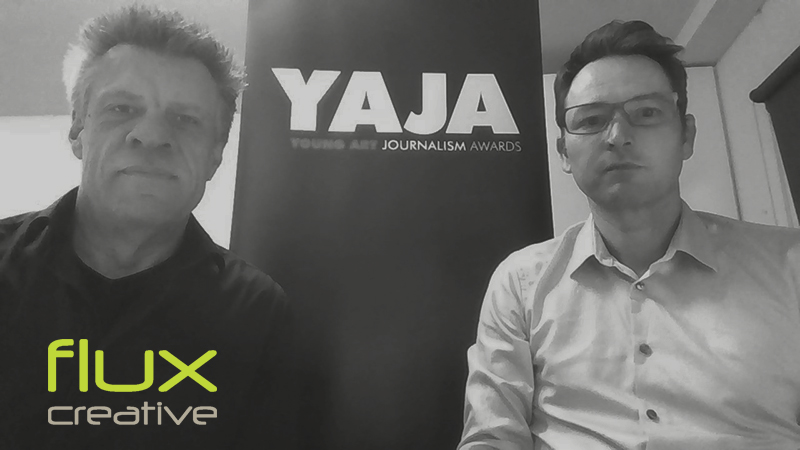 YAJA Co-Founders join panel discussion about "Digital Technology and Public Communication" @ Northumbria University Newcastle (UK)
Volker Janssen (Co-Founder: Young Art Journalism News Feed + Awards - Left) and Erik Rathmayr (Director at Flux Creative / Publisher: ART NEWS PORTAL - Right) were invited by Dr Gabriel Moreno-Esparza (Senior Lecturer in Journalism at Northumbria University Newcastle, UK) to join Anne-Marie Lacey (Managing Director Filament PR) and Hugh Macknight (Policy and Communications Business Partner, Newcastle City Council) via Skype in a panel discussion covering "Digital Technology and Public Communication".
Reflecting on the experience it was great for us to be invited and to be part of the panel via Skype video call. The set up by itself shows how much technology and global communication has advance in the last 15 years. I recall, even in the late 1980s, that it was difficult to get a clear phone connection from the South of Spain to Austria, let alone Australia to Europe. And now mobile technology has completely changed the way we communicate, reaching out to the world from the palm of our hands.
With three parties from very diverse backgrounds, it was interesting to hear all the different challenges the panel members are facing in communicating with their target audiences.
Outcomes are different as well. In advertising it's all about conversion and positive ROI. Councils struggle to engage online with a very sceptical audience - the community they serve. And YAJA (Young Art Journalism News Feed + Awards www.artnewsportal.com/YAJA) juggles a set of very different communities with different needs and expectations. As Gabriel Moreno-Esparza confirmed, communications have to be targeted and specific so they ensure engagement through relevance.
Another challenge communicators are facing is that online channels constantly change and audiences shift. Facebook is a classic example: Starting as a free communication platform for anyone who feels like sharing their views and updates it is increasingly turning into an online phone directory and messaging platform. Research reveals that younger generations simply don't want to hang out where their parents are, fearing judgement or scrutiny over what they are posting and with whom they are connected.
We were also discussing the importance of trust in media sources, quality of content, journalistic integrity (research vs fake news), citizen journalism and clickbait.
Also mentioned were skills a modern communicator requires:
A good understanding about the audience you are talking to
Excellent writing and presenting skills
Basic HTML/CSS knowledge
Use of CMS publishing tools
Multimedia skills: working with images and videos
Understanding of SEO and SEM
Willingness to constantly learn new technologies
A big thank you goes out to Dr Gabriel Moreno-Esparza for making this discussion happen.
Northumbria University Newcastle
Find topics of discussion and questions to panel members below.
Please provide a brief overview of your professional trajectory and of what you do at present.
How would you define "public communication" in your field of activity?
Could you mention examples of how you engage in public communication in your day to day job?
What are your views about the way in which the internet, digital media platforms and devices have transformed the nature of your work?
To what extent does the current technological landscape require you to engage more in the public arena?
What specialisms (i.e. professions), knowledge and skill sets are especially important in such technological landscape for public communication? (How can students join your industry and make a living in it?)
To what extent would you agree with the notion that there are winners who have benefited from the new technological landscape as well as losers whose jobs may be at risk from computerization, automation, etc.? Please consider examples of "winners" and "losers"
Theory of media and society suggests there are four main types of public communication: a) for transmission (i.e. to inform); b) for expression (i.e. performative, inspiring); c) for publicity (i.e. competes with others for attention); d) for reception (i.e. the message may be interpreted distinctively by different audiences).
Which type best characterises the forms of public communication in which you engage? Please elaborate/provide examples.
How important are mainstream media in your line of work? What is the measure to which they have become more or less important in your activities?
To what extent would you say that in present times, there is a problem of visibility for public communicators (i.e. too many actors competing for attention)?
What are the challenges for obtaining visibility as a public communicator in your line of work?
How can you have of improve the visibility of your messages in an overcrowded public sphere?
It is said that we live in an age of post-truth politics? How familiar are you with this term and to what extent is that relevant to understand the challenges that people in your line of work face?
To what extent do you agree with the notion that public communication faces a problem of public credibility?