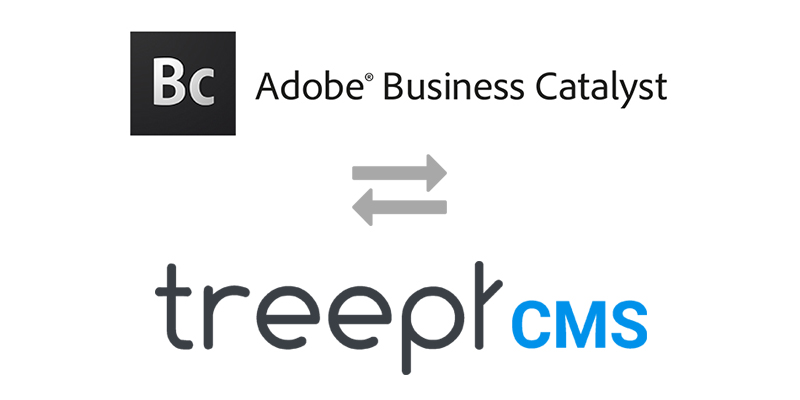 As of 26 of March 2018, Adobe has announced end-of-life for their Business Catalyst CMS, leaving around 77,000 customers with no other alternative than to migrate or rebuild their current website onto a different platform by March 2021.
Luckily there are many great alternatives available in the marketplace today. Amongst them Duda, Shopify, BigCommerce, WordPress, PlatformOS, Webflow, Umbrace, Concrete5, Magento just to name just a view.
Unfortunately with all the great platforms available none of them provide a seamless migration from Business Catalyst if you want to keep the look and functionality of your current site. Which I suspect most of you do.
Luckily there is a solution... Treepl. It is a complete all-in-one content management solution, built to be comparable to the Adobe Business Catalyst platform but on steroids. It is more advanced, more flexible, has more features and has a purpose built migration engine that can transfer like for like almost 90% of the Business Catalyst functionality and content.
The team at Treepl has been working closely with Adobe for many years and come up with a migration tool to keep migration cost and time frames at a minimum. Every migrated website goes through manual testing in every browser and every platform before handing the results ensuring successful transferring.

This makes it by far the most economical option on the market today to migrate your Business Catalyst website. Even the admin user interface will look familiar to every Business Catalyst user.
Benefits of migrating to Treepl
Seamless migration
Most economical migration
Familiar admin user interface
Same but more advanced functionality
MailChimp marketing automation
API integrations
Automatic Backups
Staging and production environment
And more
Migration details and Website Migration Review form.
Flux Creative is a Treepl partner agency. Feel free to contact us to if you want to know more about Treepl in general or need help with migrating your current website from Adobe Business Catalyst to the new and advanced Treepl CMS.