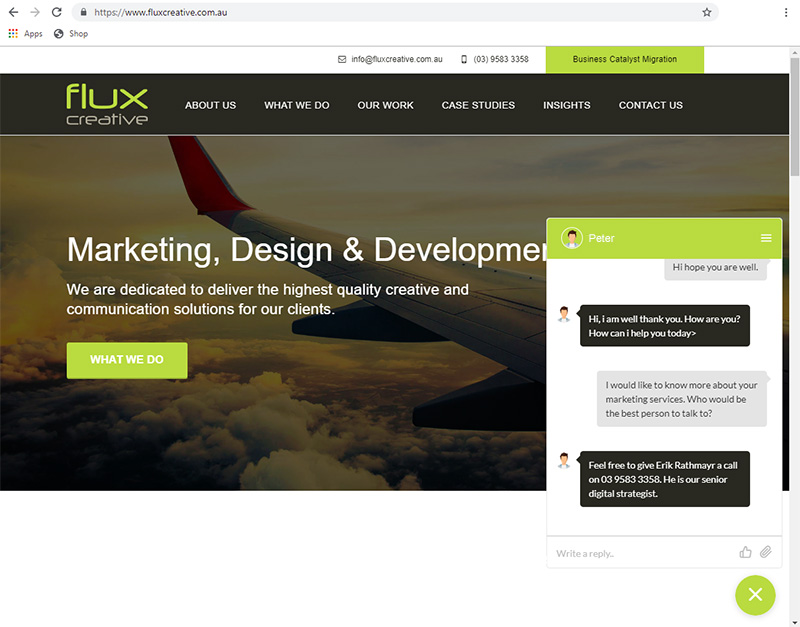 Live chat software is a tool that can be added to your website, where you can offer immediate customer support. It works as an instant messenger, where your customers can communicate with one of your staff in real time through a pop up window. Such support has the ability to promptly and conveniently answer customer inquiries, helping you establish contacts and inevitable increase sales.
It's a fast and effective way to offer help without interrupting a customers online experience and according to research 42% of customers prefer live chat over email support and social media forums. Good customer experience is fundamental to the long-term success of any business.
Major benefits of Live Chat
Increase sales and conversion
While browsing your website, prospects and customers will have questions about your product or service. With a live chat, you can answer them immediately while the buyer is still on your website. It's a fact, companies that sell online and use live chat, increase their revenue.
Increase the order value by on selling
A support agent can recommend similar products and services by up-selling and cross-selling to increase the average order value.
Build trust with your customers
People are naturally skeptical of buying things from people they don't know. One of the challenges customers face especially in online shopping is being disconnected from a sales assistant who can answer questions. By using live chat, you can have a direct conversation with buyers, allowing you to build that necessary trust. Don't forget that customers are your best form of marketing, nurture them.
One of the more popular ways to use live chat is for customer support. It's convenient and instant. Quick response definitely increases your customer satisfaction. Fact is that the average customer service response times are 2 minutes for live chat, as opposed to 10 hours for social media and 17 hours for email.
Reduces support cost
Customer support can be expensive. Traditional customer support can only handle one phone call or answer one email requests at a time. According to recent research live chat service agents can engage in as many as six simultaneous chats.
Do it yourself
With the technology, you don't need a support team or off-shore help. Anyone in your office can connect to the software and respond to requests.
Collect customers contact details
Unfortunately, not everyone who visits your website will buy from you straight away. Using a live chat allows you to collect data about prospects who engaged in a conversation, turn them into leads and follow up with remarketing activities.
Learn and understand your customers needs
A key part of any marketing campaign or sales process is to understand your buyers' needs. Live chat data can help you provide the right solution to them and get that edge over your competitors.
Conclusion
If your website already has good traffic and conversion rates, there's no doubt that a live chat will increase your customer satisfaction rate, conversions and sales.
There are some great tools out there, some even free. If you are not using a live chat already then now is a good time to start.
Feel free to contact us to find out more or to get yourself set up.