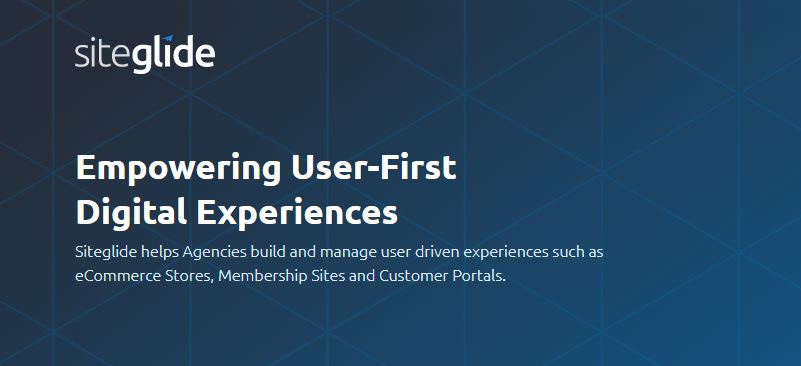 SiteGlide is a powerful CMS without limitations based on PlatformOS.
The hybrid SaaS (Software as a Service) model gives site owners total control over layout and functionality while Siteglide takes care of maintenance, updates and security.
Siteglide opens up endless opportunities for personalisation, automation, interactivity and in general far richer web experiences, whether it's forms to capture data, eCommerce Stores, Membership Areas or complex Community sites.
The system is so advanced it can even be used to manage multi-vendor marketplaces with ease.
Sitglide also comes with an intuitive and easy-to-use interface, you can update your website in a matter of seconds and ensure your users aren't stuck waiting for the latest news.
SiteGlide CMS Features include
Content Management
Visual page editor
Rich text editor
Layout libraries
Drag and drop file manager
Image optimisation tool
Dynamic menus
Advances SEO settings
Modules
Blog including archive feature
Landing pages
Photo galleries
Event managment including paid events
CRM
Manage user and customers data
Setup custom CRM field sets
User import and export
Front end editing of user profiles
Email Marketing via SendGrid
Campaign sending engine
Drag and drop email design
Dynamic lists
Forms
Form builder
Custom CRM fields to forms
Secure Member / Customer Zones
Dedicated content for user groups
Auto subscriptions on sign up or payment
Recurring subscriptions
Customisable eCommerce
Products
Catalogs
Attributes
Discount codes
Inventory
Orders
Payment Gateways
Shipping options
Data Management / WebApps
Dynamic field content
Categorisation
Listing environments
Search and filter functionality
User submitted content
Geo location
Architecture
256 bit SSL Certificate
AWS Hosting
Cloudfront CDN
Global Data Centres
Google Analytics integration
Feel free to contact us in case you have and questions or want to learn more.