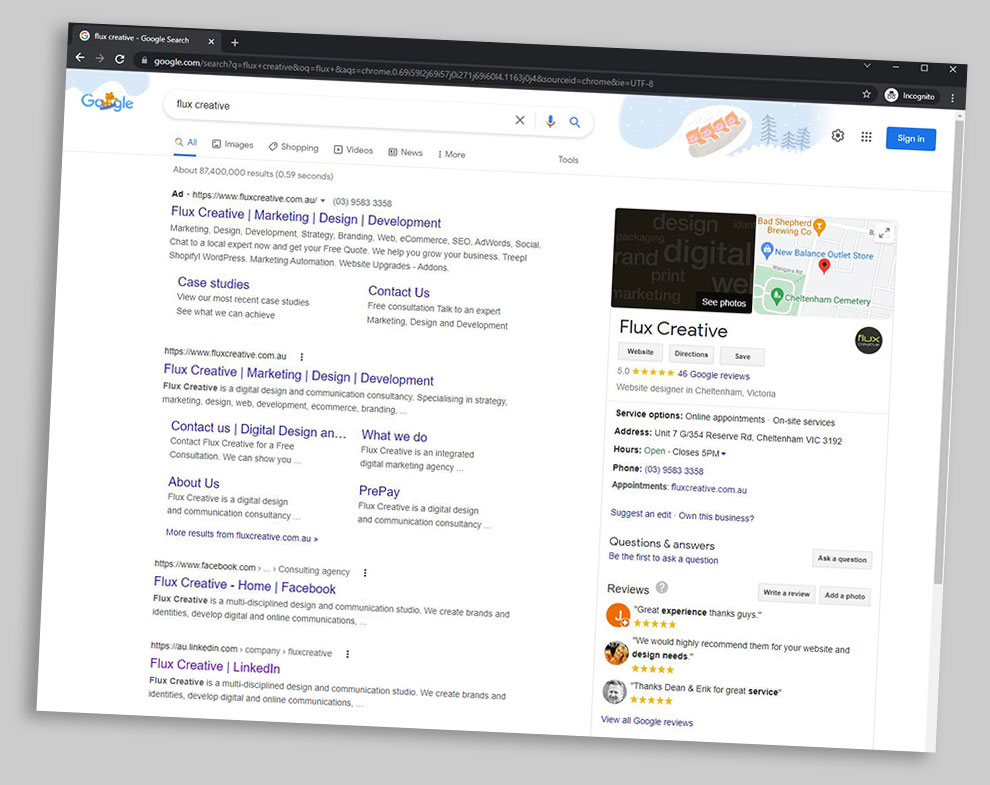 How to best optimise your Google MyBusiness profile
A Google MyBusiness profile is a free listing that helps you show up where it matters the most... on local Google Searches and Google Maps when people search for your business.
Once set up you can update and manage your details such as address, phone number, website URL, opening hours and more. You can even upload images, videos and posts.
A critical feature of your profile are the Customer Reviews. Clients can leave a star rating and post a review about their experience with your business.
Quite simply, if you have a comprehensive profile and a high number of positive reviews, the more likely your business will be to show up at the top in a local search.
How Google determines a local ranking.
Local results are based primarily on relevance, distance, and prominence. A combination of these factors helps Google find the best match for your search.
Relevance: Relevance refers to how well a local Business Profile matches what the user is searching for.
Distance: Distance considers how far each potential search result is from the location term used in a search.
Prominence: Prominence refers to how well known a business is.
How to boost your MyBusiness profile.
When used correctly, Google MyBusiness is a powerful tool that can increase leads, sales, website traffic and provide valuable insights about your customers.
Some simple recommendations are:
Complete every section of your account and keep the data accurate.
Make sure your category is specific. E.g.: Don't select "Cosmetology" if you run a "Nail Salon."
Additionally, select primary and secondary categories.
Add attributes like service options and access details.
Add your products and/or services.
Setup messaging.
Publish posts on a regular basis
Upload new quality photos on a regular basis
Actively collect and respond to reviews on a regular basis
Setting up and running a Google MyBusiness profile is not a one-and-done marketing task. It's a powerful local marketing tool that requires ongoing actions in order to increase online presence and maximise outcomes.
Just like any other SEO strategy, your Google MyBusiness strategy should centre around providing as much quality information about your business as possible.
Our key advice is to make sure your profile is up to date and keep those positive reviews coming in.
Remember it's a free service. Not claiming and optimising your Google MyBusiness listing is like saying, "No thanks" to someone offering you a free advertising billboard for your business on a busy road.
Other valuable resources
Importance of online customer reviews
Importance of Local Marketing
The importance of Google local search
Digital Marketing Tips for Small Business
Check out our Flux Creative Google MyBusiness profile.
We hope this has been helpful, feel free to contact one of our experts if you need any further help developing or executing a sound online marketing strategy.
You can also sign up to receive our newsletters so we can keep you in the loop with our industry insights.